There's great excitement these days, with 1001 questions asked about Halloween and everything else she finds scary. Little Red Riding Hood, read and reread, has become her nightly routine to convince herself that some things simply do not exist.
And the pumpkins. Oh my God, the pumpkins! Her Jack o' lantern madness vs. my cooking madness. From pasta and salads to risottos; from pesto and chutney to jams; from cooked and roasted pumpkin purees to spicy soups … the list goes on and on, as long as it's time for pumpkin everything!
This recipe came by chance, although influenced by an amazing pumpkin cake I baked last week (recipe from a Portuguese friend and Blogger, Vera from Hoje para jantar.
Our Sunday pancakes were extra fluffy and full of character: total motivation for the very cold and lazy day we had.
Pumpkin pancakes

crispy bacon, caramelized banana and walnut sprinkles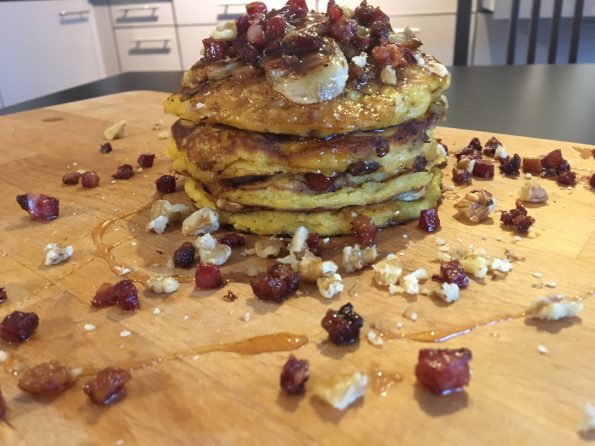 Ingredients:
(recipe for 6 medium pancakes)
250gr of sweet pumpkin puree (homemade – 1.5kg of pumpkin; 250gr of sugar; water; cinnamon and salt to season – use what you need and then freeze the rest "for a rainy day")
2 eggs – M
1 pinch of salt
1 teaspoon baking powder
1 teaspoon baking soda
3 tablespoons all-purpose flour
butter
chopped walnuts
1 to 2 bananas
bacon (about150gr)
maple syrup (to drizzle)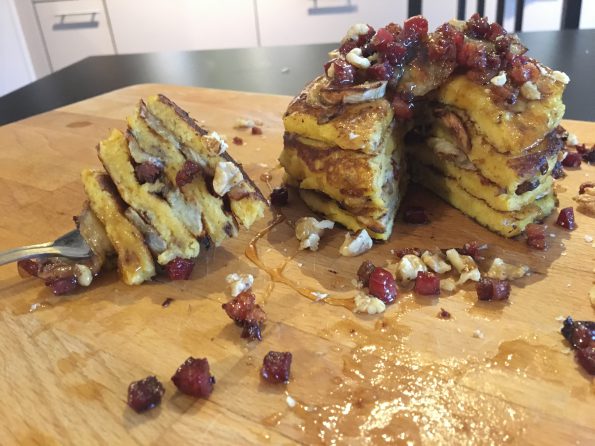 Instructions:
Preheat the oven to 180 ° C.
In a paper-lined tray, place the bacon (into cubes or strips) and the ​​banana, sliced. Brush the banana with maple syrup. Place the tray in the oven and let it roast until the banana is caramelized and the bacon is crispy.
Separate the egg yolks from the egg whites. In a bowl, mix the yolks with the pumpkin. Add the flour; a pinch of salt; yeast and baking soda.
Beat the egg whites and add to the pumpkin, stirring gently.
Heat a non-stick pan over a medium heat, with a little butter. For medium pancakes I used 3 tablespoons of the batter/each.
Between each pancakes put 2 or 3 banana slices and, when finished, drizzle everything with maple syrup. Sprinkle with crispy bacon and walnuts.
See you soon!