At home, sushi days are considered very happy days. Whenever one (or even both) of us suggests sushi, the other one can never say no. Truth be told, whenever the topic is sushi, we are always in tune. There is no way to deny it: this is one of our favorites (especially when it is homemade). He loves it. Our little one loves it, too. Even the cat is pleased when I start preparing the fish.
Yesterday, between a table full of sushi and teriyaki, green tea and macarons from Ladurée, the clock went from 7:00 p.m. to 2:30 a.m., giving us no time to realize it was so late.
Today, after spending (almost) all morning resting, and the afternoon tidying up, I finally had time to review yesterday's pictures and reflect for a moment about the choices I made for this Japanese dinner. I confess, what I like most about a sushi dinner, apart from all the planning & prep, is the casual atmosphere, created by those who are in no hurry to sit and eat.
Below you will find some of the pictures we took, as well as the recipe for an amazing Teriyaki Chicken . Very, very easy to make and full of flavor,  it was a perfect choice for our sushi party.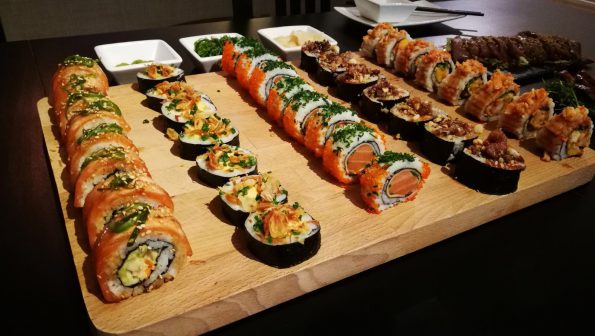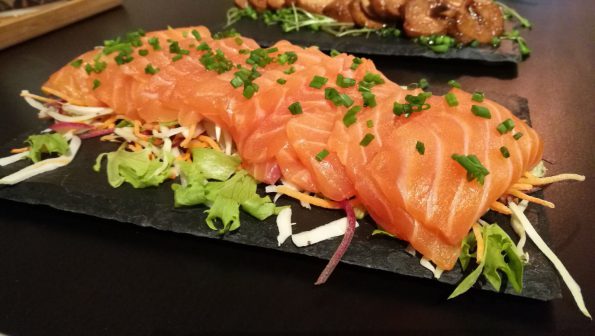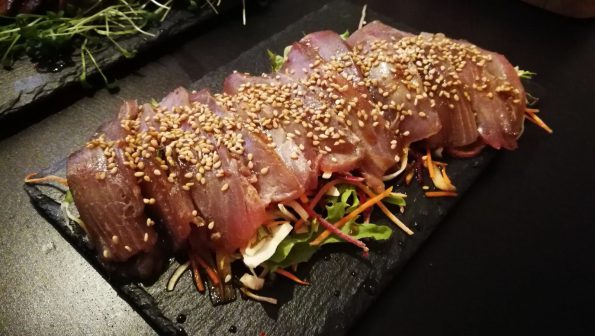 Teriyaki Chicken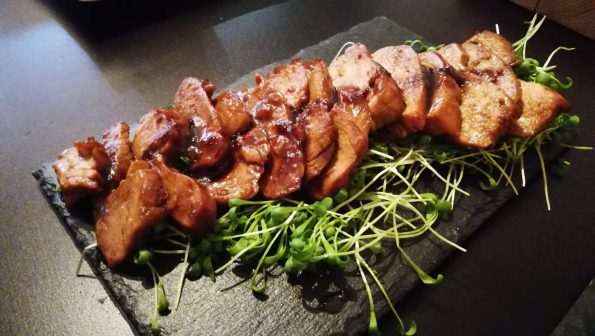 Ingredients:
2 chicken breasts
3 tablespoons of sake
1 tablespoon of grated ginger
1 tablespoon of sesame oil
3 tablespoons of brown sugar
80ml of rice vinegar
80ml of soy sauce
Instructions:
Start by preparing the teriyaki sauce. In a bowl, combine sake; grated ginger; sesame oil; brown sugar; rice vinegar and soy sauce. Add the chicken breasts and let it rest for 30 minutes, turning the chicken half way.
After 30 minutes, remove excess teriyaki sauce from the chicken breasts while you place a non-stick frying pan on the heat. Add a tablespoon of oil (I used peanut oil) and fry the chicken breasts until golden brown.
Pour the teriyaki sauce into the pan and bring to the boil. Immediately reduce the temperature and let the chicken cook for a few minutes, turning occasionally.
Once the chicken is well cooked, remove it from the pan and set aside. Return the pan to medium-high heat and let the sauce boil for another 4 or 5 minutes to simmer. The sauce will get a very dark (almost looking burnt) caramel color.
With a sharp knife, evenly slice the chicken breasts. Coat each slice with the teriyaki sauce and serve over a bed of vegetables; Japanese rice or simply fresh salad. Drizzle the meat with more teriyaki sauce and, if you prefer, sprinkle with chives and white sesame seeds.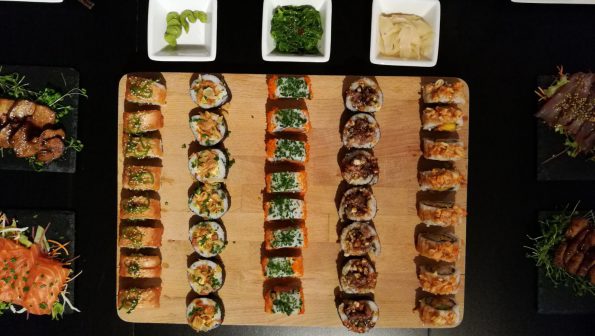 Please, think again if you think making sushi is difficult – it is not! Please, do the same if you think just because "it's half raw, it's no trouble at all." – actually, it takes time and devotion.
Believe me, even though I've lost count of the number of times I have made sushi at home, I still get butterflies in my stomach each time I accept the challenge of doing it again.
I am really not sure if I feel like this because I am scared that my sushi won't be good enough to eat, or because I really get excited about preparing and cooking more sushi. The truth is: this is all part of a ritual I intend to keep.
See you soon!