Today's post is a kind of celebration of the places where I feel at home and the people who make me happy. Three places, three recipes. Easy peasy!
Alheira croquettes with pear jam and cardamom
When I was living in Vila Nova de Foz Côa, the regional sausages (farinheira, alheira or moiro) were a dish often served (at our table). Nowadays, living far away, I have to beg for them, precious gifts usually brought by my aunt or my cousins, every time they visit my father.
I created this recipe in February 2016, following a conversation with my best friend who, for a long time, challenged me to use the products made by her family, in my kitchen. Here it is, Daniela, fruit of your persistence: Alheira croquettes with pear jam and cardamom, from Casa Painova.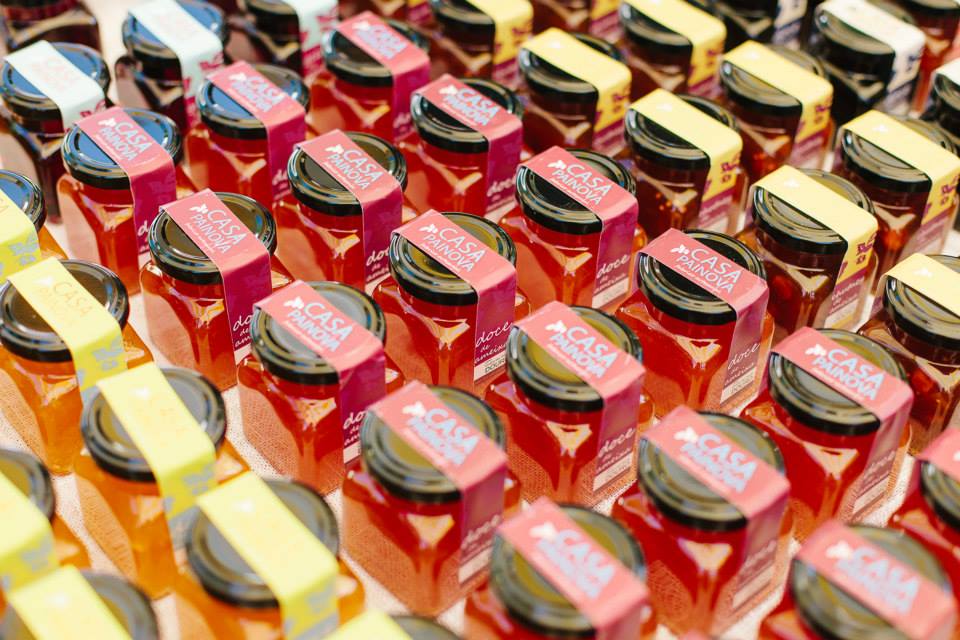 Ingredients for the Croquettes
1 alheira
1 tablespoon of olive oil
1 medium onion
2 cloves of garlic
1 small pear
1 to 2 tablespoons of pear jam and cardamom
1 tablespoon of lemon juice
basil and parsley
flour / breadcrumbs / eggs
Preparation:
Remove the skin from the alheira.
Chop the onion and the garlic and sauté both in olive oil. Add the alheira in pieces and the pear, finely grated. Let it cook.
Add one to two tablespoons of pear and cardamom jam, lemon juice and chopped basil and parsley. Let it cool to make it easier to form small balls.
Coat the croquettes with flour, then with the beaten eggs and finally the breadcrumbs.
Freeze the croquettes for 30 minutes, before frying in a pan, over medium-high heat.
I garnished it with rocket salad and sweet mustard sauce (ingredients: Dijon mustard; olive oil; pear jam and cardamom and chopped basil).
Iscas com "Elas"
Pork liver with boiled potatoes
I remember the long trips to Lisbon, whenever we had school breaks. My father used to sing "Olha as casas de Lisboa", still several kilometers away from Lisbon, to encourage us. Once there, crossing Gago Coutinho Avenue, while my father wondered if he would or would not find a parking spot in front of our grandparents' apartment, I would open the car window. Say what you want about pollution, Lisbon had its own smell!
One day we moved to Lisbon, a city that never lost its charm and where I like to be a tourist.
Iscas com "Elas" is one of Lisbon's typical dishes, composed of thin strips of pork liver (Iscas) served with potatoes ("elas", in English them).
The use of vinegar in this recipe must be taken seriously!
Ingredients for Iscas com "Elas"
800 gr of pork liver
salt and pepper
3 bay leaves
4 cloves of garlic
1/2 glass of white wine vinegar
1 glass of white wine
fresh parsley
1 tablespoon of olive oil
1 tablespoon of lard
Adapted from www.cm-lisboa.pt/visitar/sabores-de-lisboa/iscas-com-elas
Preparation:
Wash the pork liver and cut it into thin slices, soaking the water before preparing the marinade.
Season with salt and pepper, slices of garlic and bay leaves. Add the wine and the vinegar and let it marinate for a few hours.
When it's time to cook reserve the marinade, it will be used later. Also, wash the potatoes and, without removing the skin, let them boil in water and salt.
In a frying pan, add the oil and the lard and let it heat well. Fry the liver on both sides (the thin slices should fry quickly). Remove the fried liver to a plate and add the marinade to the frying pan. Cook until the sauce has thickened slightly and, at that moment, reheat the pork liver by adding it again to the frying pan.
Peel and slice the potatoes before serving.
Sprinkle with chopped parsley.
Swiss meringue nests with double crème de la Gruyère,

Lime & Lemon curd and raspberries
One of the first places we visited when we moved to Switzerland was Gruyères. It was the first time in my life, I had the opportunity to see infinite shades of green on a single hill and I almost felt like I would find Heidi at any moment. We immediately fell in love with the landscapes, the village and, of course, the cheese.
Only the following year, when we returned to the same place with Paulo and Maria, we considered trying the typical meringue with double crème de la Gruyère.
"C'est la crème de la crème", literally.
I feel obliged to share with you, Eton Mess lovers or Pavlova lovers, this magnificent portion of love. It can only be love by the way it comforts us! Here at home we usually choose the simple meringue / double cream / raspberries version.
Today I present the recipe with a new added flavour.
Ingredients for the swiss meringue nests
3 egg whites
160 gr of sugar
1 pinch of salt
1 teaspoon of fruit vinegar
1 teaspoon of cornstarch
1 coffee spoon of vanilla powder (optional)
Preparation:
Preheat the oven at 180 ° C.
With a pencil, draw 6 small circles on a baking paper.
In a bain-marie, begin by whisking the egg whites, salt and sugar until they reach 50 ° C.
Continue to whisk, until the meringue forms small peaks. Add the vinegar, cornstarch and vanilla and whip until the meringue cools completely and remains firm.
Prepare your baking tray with the baking paper. Place the meringue with a spoon and create small nests.
When you place the baking tray into the oven, the temperature must be reduced to 150° C. Cook the meringues for about 70 minutes. Let the meringues rest in the oven (now turned off) for another 15 minutes.
Remove the tray from the oven and place the nests on a base to cool completely.
Ingredients for lime & lemon curd
3 tablespoons of cornstarch
120 gr of sugar
275 ml of water
2 lemons (juice and zest)
1 lime (juice and zest)
50 gr unsalted butter
3 egg yolks
Based on Jamie Oliver's lemon curd recipe
Preparation:
Combine the cornstarch and sugar in a bowl. Add water to the bowl, just enough to make a paste, with no lumps. Pour the rest of the water and the lime and lemon zests, finely grated, into a pan. Let it heat slowly.
Squeeze the lime and the lemon juices into the paste and combine well before pouring the mixture into the pan. Whisk all the time to prevent any lumps and let it cook until thickened.
Stir in the butter, cut in cubes, and the beaten egg yolks (warm them with a spoon of the hot cream). Let it heat for 1 or 2 minutes. Remove the pan from the heat and leave it to cool completely.
Place each nest on a plate. Add the double crème de la Gruyère (any double cream, no sugar, otherwise) and the lime & lemon curd. When ready to serve, join the raspberries.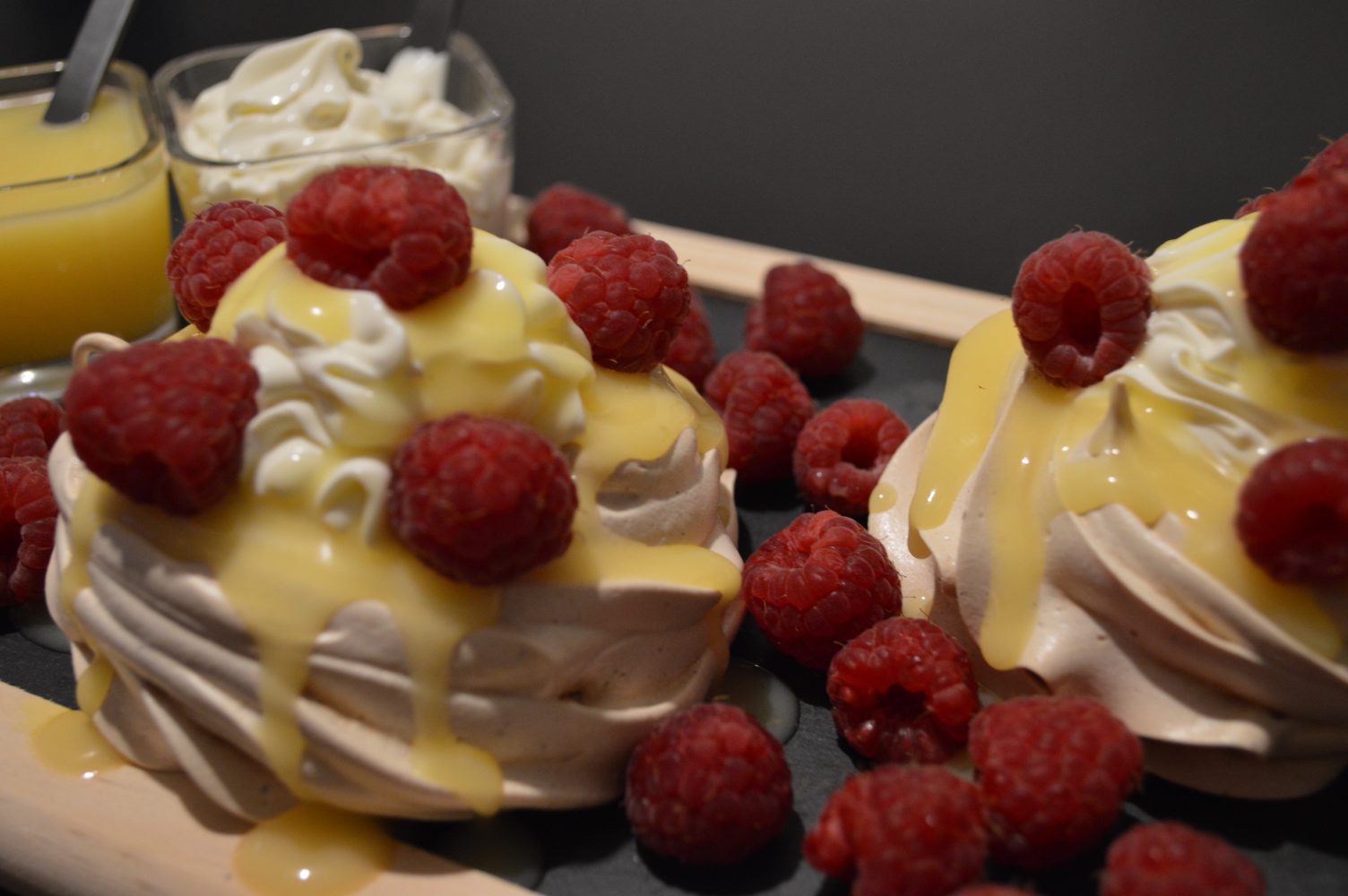 Preparing now for Easter, I thank you for being here with me.
See you soon!